Animal Husbandry
All animals breed, age, and die naturally in habitats that suit them. Players may tame these animals for immediate use, breeding, and even conservation efforts.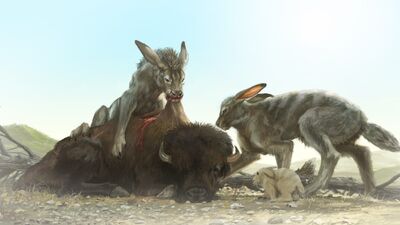 Almost every animal is able to be tamed if the player has sufficient skill[1]. The exception is creatures of higher intelligence or willpower, such as daemons.[2]
Animals will be located in a suitable habitat for their species. For example, the canis rabbit may live in a hollow, wolves may live in a den, and horses in a field. Some animals will be easier to tame than others. The canis rabbit is very aggressive and is far from domestication, but is still technically possible to tame given enough time and effort[3] after it's been bred to be more docile.[4]
Taming animals will be a skill in order to gain the trust of the animal. While there will be multiple ways to accomplish this, Jeromy "Caspian" Walsh has hinted that music will play a role, "music tames the savage beast."[5]
Players, animals, and plants all have the ability to breed or cross-pollinate within their species in order to reproduce.[6] Animals will regularly breed based on different schedules for each type of animal. Those rates have not yet been set and will require testing to balance.[7]
It is not possible to breed animals while traveling.[8]
Every living thing has a genetic system written into their code in order to determine traits such as height, width, and color. Over time players will be able to breed organisms for specific traits for their environment and personal goals, whether this means raising a unique breed of horses or type of vegetable.[9]
Conserving Endangered Species
[
edit
|
edit source
]
Since each animal and plant type will have some sort of reproductive ability instead of spawn timers, players will not only be able to breed them but may be required to breed specific species in order to prevent species from becoming endangered or even extinct.[10]
After taming and breeding wild animals, players may re-release them into the wild where they will naturally find others of their species with which to procreate.[3]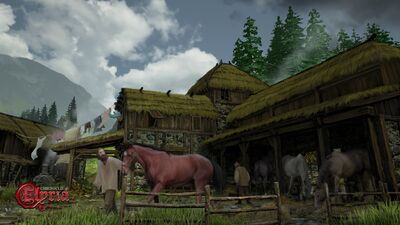 Ref.:[11]
Animals will need to be fed as they will be susceptible to hunger, but this will be less important while in town. Animals that are in town will have the ability to feed from something like a trough so players will only have to restock the animals' food "every once in a while" or hire someone to do it for them. These animals may still gain fatigue or lose vitality in other forms but won't become incapacitated.
Out in the wild, animals do not have the option of feeding automatically so players will need to be prepared to provide for any mounts and companions they bring on their travels.
Ref.:[9]
Animal handling will require player skill but not character skill. This is due to certain challenges in leading animals, e.g. a horse, in a specific direction, such as physics and the animal's level of willpower.
Players can craft armor for horses.[12]
It is possible to capture live animals using traps. The purpose for this can be either to bring them home for taming and subsequent breeding, to study them, or to use them for training or challenging people in training grounds or arena's.[13]
Livestock and other animals can be transported in various ways. Making them herd and walk by themselves can be a preferrable option. Transporting them in special wagons is also an option though.[13]
Wild animals are animals that have not been tamed and may be docile or aggressive towards players or other creatures, including livestock.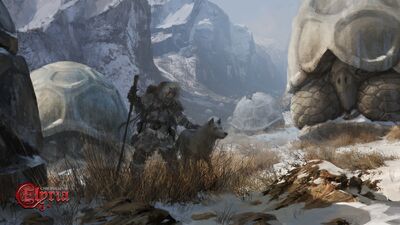 Both typical livestock as well as "Elyria-specific" livestock have been confirmed.[7] Soulbound Studios is aiming for a wide selection of livestock but will be subject to how much developing time is available to creating livestock-type animals. There will be a range of meats as well as non-traditional farm animals such as bees for the production of honey.
Mounts' abilities to carry players will vary. Regular horses will only be able to carry players for short distances compared to thoroughbred horses. Mounts may also use unique attachments such as the Carriage for Two.
Pets will be available for vanity collections, guards, battle companions, and more. The same rules of feed and reproduction apply to pets.
 

Art

Horns
Percussion
Stringed Instruments
Wind Instruments

Performing Arts

Acrobatics
Dance
Song

Combat

Melee

Blades

Long-Blades

One-Handed
Two-Handed

Short-Blades

Daggers
Short Swords

Blunt Weapons

One-Handed

Two-Handed

Hammers
Maces

Defense

Blocking
Deflection
Shields

Dual Wielding

Polearms

Guisarmes
Spears
Staves

Grappling
Striking

Ranged

Drawn

Thrown

Javelins
Slings
Thrown Blades
Tossed Items

Triggered

Crossbows

Crafting

Chemistry

Cloth and Leather

Tanning
Weaving

Engraving

Glass, Bone and Stone Working

Glass Blowing

Mineral Cutting

Stoneworking

Masonry
Pottery

Metalworking

Smithing
Tinkering

Woodworking

Carpentry
Carving
Paper Making

Guile

Camouflage
Makeup
Mimicry

Prowling

Lock Bypassing
Trap Disarming

Replication

Document Replication
Goods Replication

Slight of Hand

Light Fingers
Pursecutting

Misinformation

Lore

Inquiry

Medicine

Pharmacology
Surgery

Architecture
Calligraphy
Musical Composition

Survival

Animal Care

Bone Setting
Wound Binding

Lure Making

Forestry

Firemaking
Bedding
Shelter

Horticulture

Hunting

Snare Making

Wayfinding

Surveying
Water Finding