Navigation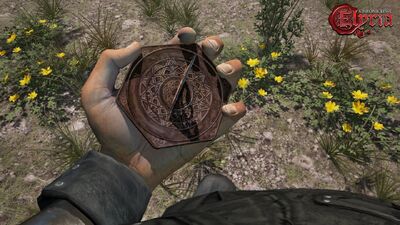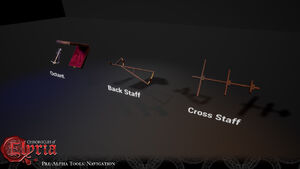 This skill is used with maps and other tools to help characters to find their location in the world.
While navigating the first important task is to identify which way is north. If you have a compass and skilled enough to use it you just need to check it to identify out which way is north. Other wise you will need to use the sun or stars to figure out where is north.
Once you have done that, you can position your body in the right way to allow you use your sundial for the time of the day and reading becomes possible. While oriented north, you can identify the closest objects nearby you contrasting them with your map and doing so will position your character's cursor on it. The more skilled your Navigation skill, the more accurate will be the position. Keep in mind that closing your map will reset the position and you will have to start the process all over again.[2]

 

Art

Horns
Percussion
Stringed Instruments
Wind Instruments

Performing Arts

Acrobatics
Dance
Song

Combat

Melee

Blades

Long-Blades

One-Handed
Two-Handed

Short-Blades

Daggers
Short Swords

Blunt Weapons

One-Handed

Two-Handed

Hammers
Maces

Defense

Blocking
Deflection
Shields

Dual Wielding

Polearms

Guisarmes
Spears
Staves

Grappling
Striking

Ranged

Drawn

Thrown

Javelins
Slings
Thrown Blades
Tossed Items

Triggered

Crossbows

Crafting

Chemistry

Cloth and Leather

Tanning
Weaving

Engraving

Glass, Bone and Stone Working

Glass Blowing

Mineral Cutting

Stoneworking

Masonry
Pottery

Metalworking

Smithing
Tinkering

Woodworking

Carpentry
Carving
Paper Making

Guile

Camouflage
Makeup
Mimicry

Prowling

Lock Bypassing
Trap Disarming

Replication

Document Replication
Goods Replication

Slight of Hand

Light Fingers
Pursecutting

Misinformation

Lore

Inquiry

Medicine

Pharmacology
Surgery

Architecture
Calligraphy
Musical Composition

Survival

Animal Care

Bone Setting
Wound Binding

Lure Making

Forestry

Firemaking
Bedding
Shelter

Horticulture

Hunting

Snare Making

Wayfinding

Surveying
Water Finding